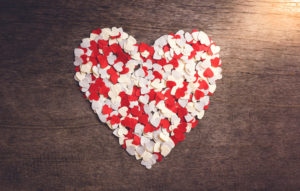 Whether you love Valentine's day or loathe it, you have to admit it can encourage some pretty crazy behavior. No matter how you choose to celebrate Valentine's Day, try not to end your day of romance under arrest like the lovers below.
Get Her a Gift!
A woman in Cincinnati, OH was arrested for trying to kill her boyfriend who didn't buy her a Valentine's Day present. The couple got into a domestic altercation and the woman began hitting and scratching him. She chased him into a bathroom, where he was able to hide, but only temporarily as she got a knife from the kitchen and tried to break through the door to stab him while making threats against his life. There was no word on whether the couple was still together, or if she had been released on bail after her arrest.
Don't Forget the Flowers!
In Dublin, Ireland a man was arrested for shoplifting roses for his (then) girlfriend the day before Valentine's Day. The man also stole a cashmere throw and a backpack during the same incident. The would-be Romeo's barrister argued that he was intoxicated, and asked the judge to consider the upcoming holiday when considering her client's offense. "They were flowers for his girlfriend at the time." she said.
Make Time for Romance?
Romance is always a good idea, until it isn't. In Portland, Oregon a couple spent their Valentine's Day in jail after indulging in a role-playing fantasy that went too far. The couple was in trouble after Police showed up and found the woman tied up in the back of a vehicle with duct tape over her mouth. Once she confirmed that it was all just an elaborate fantasy the couple was playing out, they were both arrested for disorderly conduct.
If you or a loved one are arrested contact ATX Bail Bonds at 512.834.2245 .