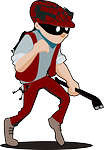 Has your friend or family member recently been arrested on charges of theft? There's no need for them to spend time in jail waiting for their court date. Call us anytime, and ATX Bail Bonds will handle all the details of the bond process while giving you a great deal on your bail bond. If you need theft charges bail in Austin, TX, give us a call today!
About Theft Charges in Austin, TX
There are a few different categories of theft, and all of them come with different penalties and bond amounts.
Burglary
Shoplifting
Petit Theft, less than $300
Grand Theft, over $300 dollars, felony charge.
Carjacking
Identity Theft
Dealing in stolen property
Robbery
Embezzlement
If your friend or loved one has recently been charged with one of these crimes and you need theft charges bail in Austin, TX because you are unable to pay for the bond yourself, give us a call today. We know all the ins and outs of the bond process, and we will have them out of jail in no time at all.
You should always be careful about who you go to when you need a bail bond.; just because a company offers a good rate doesn't mean it's the best company for the job. You need a company that cares about its customers, and that is experienced enough to make the bail process go smoothly.
For Austin, TX theft charges bail bondsman service, you can't do better than ATX Bail Bonds. Give us a call today at 512-834-2245 (BAIL), and we will get to work fast.